21.02.2015
Venue: Amsterdam
Referee: Leo Colgan (Ireland)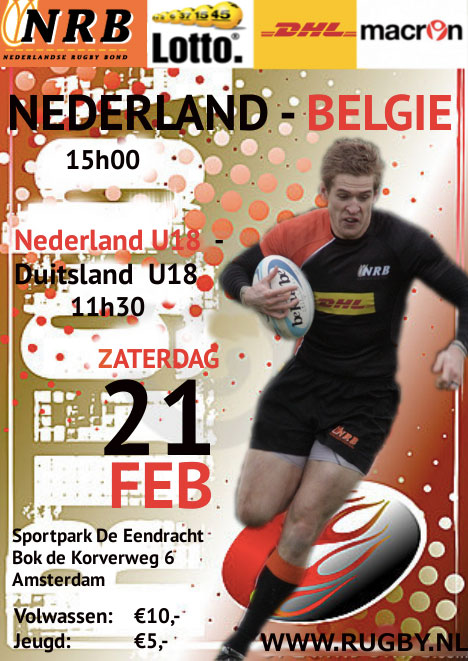 Poster thanks to http://www.sportkipik.be/articles.php?id_article=9363
Preview
Traditional and long standing rivals, Netherlands and Belgium first played each other in 1932 soon after the formation of FIRA. For the next thirty years they were regular and almost exclusive opponents when rugby in Europe began to expand.
At present they meet because Belgium were relegated from Division 1A last season whereas the Netherlands were promoted from Division 2A. So after two seasons from competitive international rugby these two teams meet again at the same level of competition.
Belgium has already established itself as one of the favourites with a convincing win over Ukraine in November. They will not be at full strength as three top players, Julien Berger, Guillaume Piron, Dirk Haghedooren and Mathieu Verschelden, have not been released by their French clubs.
The Netherlands has named a changed lineup from that which performed well against Poland in October. That performance was very encouraging. Being host the Netherlands will be eager to defeat their traditional rival.
| | | | | | | | | | |
| --- | --- | --- | --- | --- | --- | --- | --- | --- | --- |
|   | P | W | D | L | PF | PA | DIFF | B | PT |
| MOLDOVA | 3 | 3 | 0 | 0 | 134 | 48 | 86 | 3 | 15 |
| POLAND | 3 | 2 | 0 | 1 | 63 | 73 | -10 | 1 | 9 |
| UKRAINE | 3 | 1 | 0 | 2 | 70 | 54 | 16 | 1 | 5 |
| BELGIUM | 1 | 1 | 0 | 0 | 25 | 10 | 15 | 0 | 4 |
| NETHERLANDS | 1 | 0 | 0 | 1 | 8 | 9 | -1 | 1 | 1 |
| SWEDEN | 3 | 0 | 0 | 3 | 25 | 131 | -106 | 0 | 0 |
Last Five Encounters
25.02.2012 Belgium 58-0 in Brussels (ENC 1B)
23.04.2011 Belgium 30-18 in Amsterdam (ENC 1B)
03.04.2008 Belgium 51-3 in Brussels (ENC 2A)
05.05.2007 Belgium 27-20 in Amsterdam (ENC 2A)
19.10.2005 Netherlands 20-8 in Amsterdam (Friendly)
Belgium Last Five P 5, W 1, L 4
15.11.2014 v Ukraine W 25-10 in Irpin (REC 1B)
15.03.2014 v Russia L 20-34 in Brussels (WCQ Europe R5; ENC 1A)
08.03.2014 v Romania L 10-29 in Iasi (WCQ Europe R5; ENC 1A)
22.02.2014 v Portugal L 6-19 in Brussels (WCQ Europe R5; ENC 1A)
08.02.2014 v Spain L 6-11 in Madrid (WCQ Europe R5; ENC 1A)
Netherlands Last Five P 5, W 2, D 1, L 2
18.10.2014 v Poland L 8-9 in Warsaw (REC 1B)
10.05.2014 v Germany L 7-17 in Amsterdam (WCQ Europe R4, Playoff)
12.04.2014 v Croatia W 45-13 in Amsterdam (ENC 2A)
05.04.2014 v Malta W 33-10 in Valette (ENC 2A)
16.11.2013 v Switzerland D 20-20 in Nyon (ENC 2A)
GWC Rugby Rankings
Europe Table-Belgium 12th, Netherlands 19th
Rugby World Ranking Points
Belgium 54.50, Netherlands 52.25
Prediction: Belgium by 7 points
Teams
Netherlands
15
 
Leon Koenen
LRC DIOK
14
 
Pascal van Overeem
RC Hilversum
13
 
Robert van der Velden
RC Castricum
12
 
Rik Roovers
RC Hilversum
11
 
Pieter Mol
Haagsche RC

 

10
 
Storm Carroll

 

RC Hilversum
9
 
Rik van Balkom
RC The Dukes
8
 
Krijn Twigt
ASM Clermont Auvergne, France
7
 
Johannes van Vliet
Haagsche RC

 

6
 
Dirk Danen
RC Hilversum
5
 
Stefan Vos
RC The Dukes
4
 
Vincent Grimbergen
LRC DIOK
3
 
Andrew Darlington
RC't Gooi
2
 
Anthony Illston

 

Haagsche RC

 

1
 
Hugo Langelaan
RC't Gooi
 
 
 
 
16
 
Mark Darlington
RC't Gooi
17
 
Thomas Isaak

 

RC Hilversum
18
 
Jamel Khoudja
RC Amstelveen
19
 
Bart-Jan Romijn
Haagsche RC
20
 
James Boelrijk
Stade Montois Rugby, France
21
 
Amir Rademaker
Haagsche RC

 

22
 
Alexander Povel
Barking RFC. England
23
 
Jonathan Nas
RC The Dukes
 
 
 
 
 
 
HEAD COACH: Alex Chang
http://www.rugby.nl/nieuws/selectie-heren-xv-nederland-belgi%C3%AB
Belgium Squad
Bertrand Billi (Soignies)
Thomas Boden (Boitsfort)
Quentin Boucar (ASUB)
Guillaume Brébant (Frameries)
Ryan Brion (Pau, France)
Cian Cauwenberghs (Mechelen)
Tom Cocqu (US Bressane, France)
Alexis Cuffolo (Dijon, France)
Michael De Molder (Boitsfort)
Thomas De Molder (Pau, France)
Sep Debacker (Dendermonde)
Florent Debatty (Soignies)
Christophe Debaty (RFC Liégeois)
Thomas Dienst (Lille, France)
Max Dubois (Soignies)
Brieuc Frateur (La Hulpe)
Sébastien Guns (ROC Ottignies)
Romain Heyndrickx (Soignies)
Thibault Jaupart (Frameries)
Loïc Lechien (ASUB)
Corentin Lecloux (Boitsfort)
Baptiste Lescarboura (Kituro)
Julien Massimi (Arras)
Nicolas Meeus (Kituro)
Alain Miriallakis (Kansas City Blues, USA)
Radman Nikrouye Aslan (ASUB)
Romain Pinte (Kituro)
Florian Piron (RFC Liégeois)
Nicolas Raykov (Arras)
Charles Reynaert (Kituro)
Frédéric Rongé (Kituro)
Hugo Sensée (Kituro)
Maxime Temmerman (ASUB)
Kjell Van Den Broeke (Dendermonde)
Pablo Fransisco Vilar (La Hulpe)
Savenaca Vocea (Dendermonde)
Kevin Williams (ASUB)
'Julien Berger, Guillaume Piron, Dirk Haghedooren et Mathieu Verschelden n'ont par contre notamment pas été libérés par leur club respectif.'