28.03.2015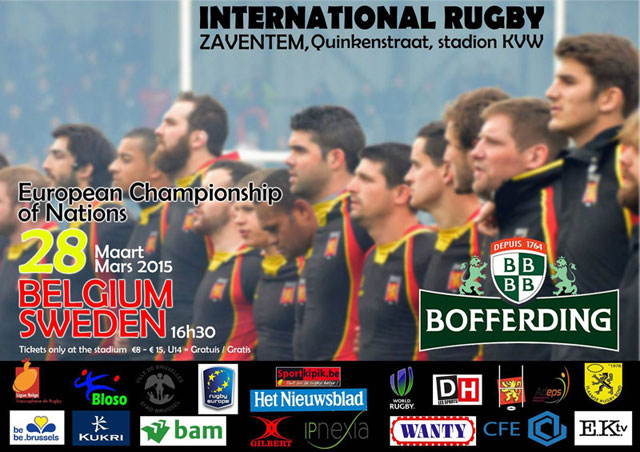 Image thanks to http://www.sportkipik.be/articles.php?id_article=9447
Venue: Gemeentelijk Sportstadion, Zaventem
Referee: Ben Whitehouse (Wales)
| | | | | | | | | | |
| --- | --- | --- | --- | --- | --- | --- | --- | --- | --- |
|   | P | W | D | L | PF | PA | DIFF | B | PT |
| MOLDOVA | 5 | 3 | 0 | 2 | 155 | 83 | 72 | 4 | 16 |
| BELGIUM | 3 | 3 | 0 | 0 | 65 | 42 | 23 | 0 | 12 |
| POLAND | 3 | 2 | 0 | 1 | 63 | 73 | -10 | 1 | 9 |
| NETHERLANDS | 3 | 1 | 0 | 2 | 47 | 42 | 5 | 2 | 6 |
| UKRAINE | 3 | 1 | 0 | 2 | 70 | 54 | 16 | 1 | 5 |
| SWEDEN | 3 | 0 | 0 | 3 | 25 | 131 | -106 | 0 | 0 |
Preview
Sweden has a massive task against Belgium. Just a year ago Sweden was winning the ENC 2A competition whilst Belgium was struggling in the ENC 1A. They were light years apart then and the same would be true of today. One is semi professional and the other almost entirely amateur.
Belgium is without seven players from the squad that played Moldova. Some are with the seven's team in Hong Kong, one is the coach of the national U18 side and one was not released by its club. Despite being a weakened side Belgium should be vastly superior over the Swedes.
Sweden has a new coach after their disastrous start to the 2014-15 season having being promoted from Level 2A. Tim Payne has been assigned the task of changing Sweden's fortunes around. Payne, a prop forward, gained 22 caps for England between 2004 and 2010. He finished his career with wasps in 2013.
There will not be a more difficult task to begin ones coaching career. It will take a few more games before Payne's coaching direction will take effect on a dispirited team.
Last Five Encounters
30.04.2005 Belgium 36-7 in Stockholm )WCQ Europe R2, Pool C)
19.10.1986 Belgium 9-0 in Brussels (FIRA B2)
10.05.1986 Sweden 12-6 in Malmo (FIRA B2)
16.10.1984 Belgium 19-3 in Brussels (FIRA B2)
24.10.1981 Sweden 15-9 in Karlstad (FIRA C)
Belgium Last Five P 5, W 3, L 2
14.03.2015 v Moldova W 17-14 in Brussels (REC 1B)
21.02.2015 v Netherlands W 23-21 in Amsterdam (REC 1B)
15.11.2014 v Ukraine W 25-10 in Irpin (REC 1B)
15.03.2014 v Russia L 20-34 in Brussels (WCQ Europe R5; ENC 1A)
08.03.2014 v Romania L 10-29 in Iasi (WCQ Europe R5; ENC 1A)

Sweden Last Five P 5, L 5
22.11.2014 v Moldova L 8-57 in Chisinau (REC 1B)
18.10.2014 v Ukraine L 0-45 in Enkoping (REC 1B)
26.09.2014 v Poland L 17-29 in Warsaw (REC 1B)
26.04.2014 v Germany L 20-45 in Stockholm (WCQ Europe R4; ENC 1B)
09.11.2013 v Moldova L 20-50 in Chisinau (WCQ Europe R4; ENC 1B)
Sweden's last test win was against Poland in June 2013 when they won 19-11 in Stockholm. They have now lost their last seven test matches. Their record number of successive loses is ten between November 1993 and May 1995.
GWC Rugby Rankings
Europe Table: Belgium 12th, Sweden 19th
World Rugby Ranking Points
Belgium 56.14, Sweden 46.20
Prediction: Belgium by 50 points. Score 58-8
TEAMS
Belgium Squad
Quentin Boucar (ASUB), Guillaume Brébant (Frameries), Tom Cocqu (US Bressane), Kevin Dams (ASUB), Florent Debatty (Soignies), Christophe Debaty (RFC Liégeois), Thomas De Molder (Pau), Michael De Molder (Boitsfort), Max Dubois (Soignies), Dirk Haghedooren (Agde), Romain Honhon (Soignies), Maxime Jadot (Lille), Loïc Lechien (ASUB), Baptiste Lescarboura (Kituro), Julien Massimi (Arras), Alain Miriallakis (Kansas City Blues), Tuur Moelants (Boitsfort), Raphaël Olive (Villefranche de Lauragais), Florian Piron (RFC Liégeois), Frédéric Rongé (Kituro), Hugo Sensée (Kituro), Maxime Temmerman (ASUB), Kjell Van Den Broeke (Dendermonde), Pablo Francisco Villar (La Hulpe), Savenaca Vocea (Dendermonde), Kevin Williams (ASUB), Alan Williams (Cognac)
http://www.sportkipik.be/articles.php?id_article=9447
Sweden Squad
Peter Wiklund Spartacus RFC             
Jan-Olof Johansson Spartacus RFC
Mark Beveridge  Stockholm exiles RFC
Daniel Chamberlain Stockholm exiles RFC
Alexander Rappestad  Norrköping RFC
Ehsan Fadakar Hammarby RFC
Robin Karlsson  Hammarby RFC
Sami Paulsson Norrköping RFC
Fredrik Enstad Södertälje RFC
Andreas Nilserius Södertälje RFC
Niklas Ståhle Hammarby RFC
Andreas Austa Södertälje RFC
Luke Perrin Uppsala RFC
Jono Edwards L'Aquila Rugby
Sebastian Nockmar Norrköping RFC
Jonas Zenglar Norrköping RFC
Stuart Rumbelow  Hammarby RFC
Henrik Ek Norrköping RFC
John McCallister Hammarby RFC
Måns Derk Södertälje RFC
Andrew Tees Hammarby RFC
Andreas Persson Pingvin RFC
Stewart  Devine Uppsala RFC
Reserv på hemma plan Adam Christersson Kalmar RFC
Head Coach: Tim Payne
http://iof3.idrottonline.se/SvenskaRugbyforbundet/Nyheter/Senastenytt/TruppenHerrXVmotBelgien/