06.09.2014
Reviews
I found this preview.
'B-team to face Poland
Difficult to see how Sweden can avoid a heavy defeat against Poland at the weekend. The team has been scraped together in the last few days and with an amateur game this has meant at least a dozen regulars are unavailable. Exiles have to be sure six players in the squad, but they are missing another six who have been regular starters for Sweden in the last couple of years. One of the six selected is Dave Ray, aged 51, a reflection on the strength of the props in Sweden at present. Dave has, however, been playing regularly for the Exiles Ones and Twos all season and will not let the side down.
I´ll have more to say about why the Union has ended up in this disastrous situation after the game is over. But in the meantime let´s wish the lads all the best. I´ll be reporting direct from the match.' Posted from the Stockholm Exiles RFC website.
http://www.rugbyeurope.eu/forum2007/viewtopic.php?f=2&t=4603
As it turned out Sweden gave the hosts plenty to think about before eventually losing.
Updates of the game as it progressed form 'Quentin'
7 mins: Try for Poland #13 + conversion #10. 7 - 0
19 mins: Try for Sweden #11 + conversion. 7 – 7
12 - 10 Sweden pen
38 mins Poland try #13 + touchline conversion. 14 - 10
HALFTIME: 14 – 10

2nd Half - BTW Dave Ray, aged 51 started the game for Sweden and was subbed only late in 2nd half
46 mins Poland try #4 + conversion #10. 21 - 10
68 mins, no more scores but the Poland #6 player now sinbinned for something off the ball as they were trying to make their 4th try.
74 mins Penalty try to Sweden as player chasing kick near 5m tackled without the ball by last defender. + conv. 21 - 17
Stoppage time and Sweden in a good position with attacking line out but concede penalty.
80+4 mins Penalty Poland #10. Good kick from wide left. 24 - 17
87 mins on the screen clock (which hasn't stopped for injuries etc), the last play of the game
Try to Poland, finally the BP try to #29 (yes shirt no. is right!) as a simple catch from line out and break through a hole in the defence. conv missed.

RESULT: POLAND 29 -17 SWEDEN

According to http://www.rugbypolska.pl/tiding,5237,rate.html
Poland: Tomasz Gasik 10 (2T), Dawid Banaszek 9 (3C, 1P), Piotr Zeszutek 5 (T), Grzegorz Buczek 5 (T)
Sweden: Neill Erasmus 7 (2C, 1P), Jonathan Edwards 5 (T), Penalty Try 5
5 000 spectators according to the gamesheet at http://rugbyeurope.eu/upload/file/14100 ... 0ENC1B.PDF
It annotates the second Swedish conversion but doesn't add the 2 points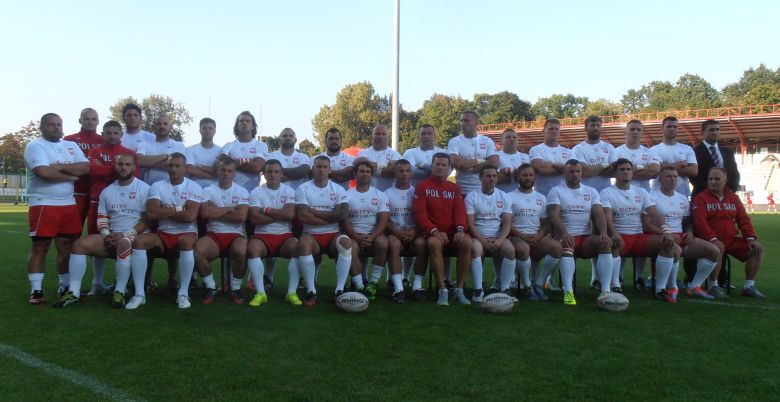 Polish team. Image thanks to http://pzrugby.pl