06.09.2014
Colombia 27, Venezuela 10 in Apartado (CONSUR B, Final)
Peru 24, Ecuador 17 in Apartado (CONSUR B, Playoff 3rd-4th)
Briefly
Day 3 of the CONSUR B tournament held in Colombia saw pre-match predictions just about go to script. A frenetic first half saw Colombia build a handy lead. Two yellow cards (one to each side) in this half was a pre-warning of things to come. A shambolic second half saw another three yellow cards dished out all to Colombia. This had the effect of an even second half in which no points were score. So Colombia took out CONSUR B honours.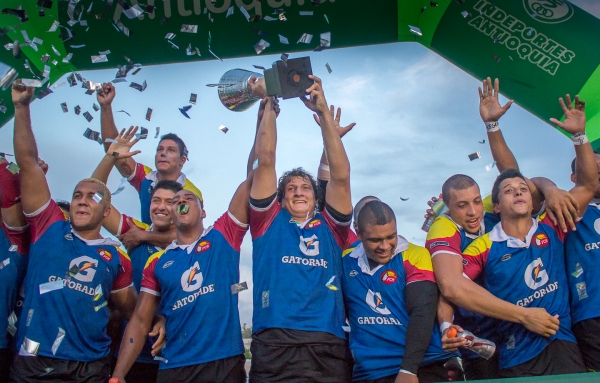 Colombia took out CONSUR B honours with a 27-10 win over Venezuela
Image thanks to http://www.consur.org
In the other game Ecuador improved their game immensely from what we saw on days 1 and 2. Peru dominated the first half and led 19-7 at halftime but Ecuador out scored Peru 10-5 in the second half but just couldn't catch their neighbours.
My understanding is that promotion-relegation between CONSUR A and B will take place every second year.
The CONSUR C tournament is due in early October. It will be held in Panama City with participating teams being Panama (hosts), Costa Rica (relegated from CONSUR B 2013), Guatemala and El Salvador. Honduras, I understand, will take part as a guest side.