20.09.2015
Wales 54, Uruguay 9 in Cardiff (World Cup, Pool A)
Review
Wales were too strong for Uruguay on their home turf and notched up a satisfactory 54-9 win. Their injury worries continued as Liam Williams, Paul James, Cory Allen and prop Samson Lee were all replaced during the game because of injuries. Prior to the tournament Leigh Halfpenny, Rhys Webb and Eli Walker withdrew from the team because of injuries.
It wasn't a convincing performance but it was a good win. Uruguay were spirited in play, defended well early on and never gave up.
Wale's next game is the big class against England at Twickenham this weekend whilst Uruguay face an even bigger opponent when the face Australia (and later England !) in 6 days time.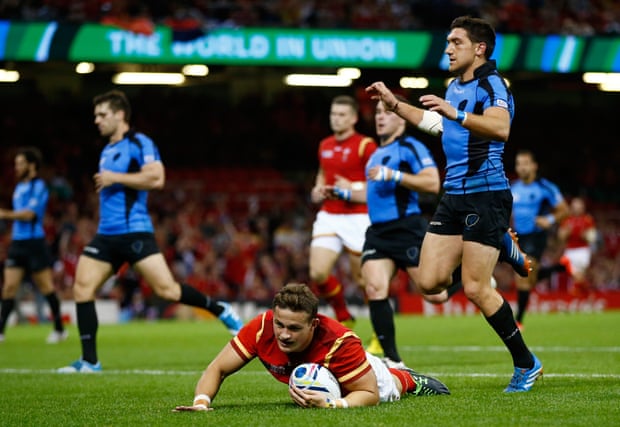 Wales was just too much for Uruguay to handle
Image thanks to www.theguardian.com
Other Reviews
http://www.espnscrum.com/scrum/rugby/story/275413.html
http://www.theguardian.com/sport/live/2015/sep/20/wales-v-uruguay-rugby-world-cup-2015-live
http://www.planetrugby.com/story/0,25883,3551_81256,00.html

POOL A
| | | | | | | | | | | | |
| --- | --- | --- | --- | --- | --- | --- | --- | --- | --- | --- | --- |
|   | P | W | D | L | PF | PA | DIFF | TF | TA | BP | PT |
| WALES | 1 | 1 | 0 | 0 | 54 | 9 | 45 | 8 | 0 | 1 | 5 |
| ENGLAND | 1 | 1 | 0 | 0 | 35 | 11 | 24 | 4 | 1 | 1 | 5 |
| FIJI | 1 | 0 | 0 | 1 | 11 | 35 | -24 | 1 | 4 | 0 | 0 |
| URUGUAY | 1 | 0 | 0 | 1 | 9 | 54 | -45 | 0 | 8 | 0 | 0 |
| AUSTRALIA | 0 | 0 | 0 | 0 | 0 | 0 | 0 | 0 | 0 | 0 | 0 |
|   |   |   |   |   |   |   |   |   |   |   |   |
| | | | | | |
| --- | --- | --- | --- | --- | --- |
| 18.09.2015 | ENGLAND | 35 | FIJI | 11 | TWICKENHAM |
| 20.09.2015 | WALES | 54 | URUGUAY | 9 | CARDIFF |
| 23.09.2015 | AUSTRALIA |   | FIJI |   | CARDIFF |
| 26.09.2015 | ENGLAND |   | WALES |   | TWICKENHAM |
| 27.09.2015 | AUSTRALIA |   | URUGUAY |   | BIRMINGHAM |
| 01.10.2015 | WALES |   | FIJI |   | CARDIFF |
| 03.10.2015 | ENGLAND |   | AUSTRALIA |   | TWICKENHAM |
| 06.10.2015 | FIJI |   | URUGUAY |   | MILTON KEYNES |
| 10.10.2015 | AUSTRALIA |   | WALES |   | TWICKENHAM |
| 10.10.2015 | ENGLAND |   | URUGUAY |   | MANCHESTER |
Data from www.rugbyinternational.net