12.09.2015
Poland 29, Sweden 11 at Enkoping (REC 1B)
Review by 'Polter' at http://t2rugby.com/viewtopic.php?f=3&t=637
This win in many ways was the best win for the Plonka, post Putra coaching regime. They've managed to beat under strength Swedish and woeful Czech Republic teams a few times, plus beaten the Netherlands at home, but this result vindicates their position in the division.

The loss of Daish was a blow to the Swedes, but Poland also missed several first choice players through injury or unavailability. All credit to Poland for getting 2 yellow cards and going down to 13 men and yet still coming away with a bonus point win. Sweden on the other hand only scored a try after a Poland mistake and 6 points during the yellow cards.

What next for Sweden? There is still a mathematical chance for them to stay up. The Netherlands are now the team to reel in but they have to rely on the Dutch not picking up any further points. 3 more home games will help the Swedes and as long as the best players they have can be picked it they will be far more competitive, but the disastrous first year of the campaign plus the need to win away in the Ukraine looks to be too much to make up. That said, they could still play a significant role in deciding who wins the division depending in how they do against the teams Belgium and Moldova send to Sweden.

And as for Poland? The countries rugby community really really needed this win. Hopefully the team will take a lot of confidence, get some more players back and put up a decent challenge to the Ukraine away in October and Moldova at home in November. Please don't sit back on your laurels and make this another false dawn....
Point scorers
Poland:
Tries-Gruszczyński (2), Bobryk, Rakowski.
Convs-Banaszek (3)
PGs-Banaszek
Sweden
Try-Gowland
Pgs-Tim Johansson (2)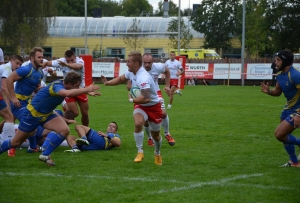 Image thanks to http://pzrugby.pl
| | | | | | | | | | |
| --- | --- | --- | --- | --- | --- | --- | --- | --- | --- |
|   | P | W | D | L | PF | PA | DIFF | B | PT |
| BELGIUM | 5 | 5 | 0 | 0 | 189 | 75 | 114 | 2 | 22 |
| MOLDOVA | 5 | 3 | 0 | 2 | 155 | 83 | 72 | 4 | 16 |
| POLAND | 6 | 3 | 0 | 3 | 132 | 157 | -25 | 2 | 15 |
| UKRAINE | 5 | 3 | 0 | 2 | 108 | 81 | 27 | 1 | 13 |
| NETHERLANDS | 5 | 2 | 0 | 3 | 81 | 74 | 3 | 2 | 10 |
| SWEDEN | 6 | 0 | 0 | 6 | 60 | 255 | -193 | 0 | 0 |
Remaining Fixtures 1B Division
26/09: Sweden v Belgium at Enkoping
10/10: Ukraine v Belgium in Kiev
07/11: Sweden v Moldova in Malmo (TBC)
14/11: Poland v Moldova in Warsaw
21/11: Ukraine v Moldova in Odessa
20/02: Belgium v Netherlands in Brussels
12/03: Moldova v Belgium in Chisinau
19/03: Poland v Belgium in Poland
19/03: Moldova v Netherlands in Chisinau
30/04: Netherlands v Poland in Amsterdam
30/04: Ukraine v Sweden in Kiev
07/05: Netherlands v Ukraine in Amsterdam
14/05: Sweden v Netherlands in Enkoping