10.06.2015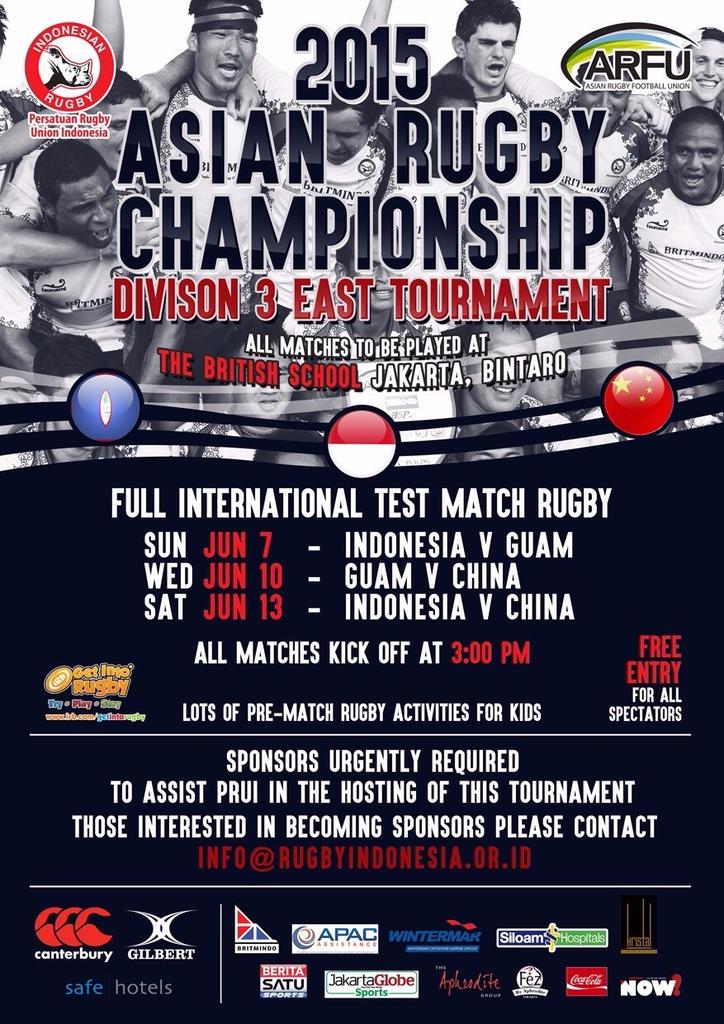 Venue: The British School, Jakarta
Referee:
Preview:
The nation with the largest population will play a nation with one of the smallest in the ARC Division 3 East clash in Jakarta today.
China's test rugby performances have improved considerably over the last two seasons. Prior to that China's focus on rugby sevens and a place in the 2016 Olympics meant that their test side well and truly under performed. This is their first outing in this 3 nation tournament being held in Indonesia.
On day 1 Guam scored a win over Indonesia 17-6. In previous encounters Guam had always been dominant. That result indicated either a weaker Guam side this year or a stronger Indonesia.
China has dominated Guam over the last two seasons. I expect them to win today leaving just Indonesia on Saturday standing in the way of a Chinese promotion to Division 2 in 2016.
Previous Encounters
31.05.2014 China 41-10 in Vientiane (Asia Nations Div.3, East Final)
25.06.2011 China 28-18 in Jakarta (Asia Nations Div.3, Final)
China Last Five P 5, W2, L 3
31.05.2014 v Guam W 41-10 in Vientiane (Asia Nations Div.3, East Final)
29.05.2014 v Indonesia W 10-6 in Vientiane (Asia Nat. Div.3, East Semi-final)
07.06.2013 v Indonesia L 13-37 in Petaling Jaya (Asia Nat.Div.3, 3rd-4th)
05.06.2013 v Qatar L 0-76 in Petaling Jaya (Asia Nat.Div.3, Semi-final)
02.06.2012 v Iran L 3-52 in Kuala Lumpur (Asia Nations Div.2, 3rd-4th)
Guam Last Five P 5, W3, L 2
07.06.2015 v Indonesia W 17-6 in Jakarta (ARC, Div.3, East; Semi-final)
31.05.2014 v China L 10-41 in Vientiane (Asia Nations, Div.3 East, Final)
29.05.2014 v Laos W 48-10 in Vientiane (Asia Nat., Div.3 East, Semi-final)
08.06.2013 v Qatar L 7-13 in Petaling Jaya (Asia Nations Div.3, Final)
05.06.2013 v Indonesia W 63-8 in Petaling Jaya (Asia Nat., Div.3, Semi-final)
GWC Rugby Rankings
Asia Table: China 17th, Guam 18th
World Rugby Ranking Points
China 40.73, Guam 35.70
Prediction: China by 10 points. Score 27-17
TEAMS
Squad lists unavailable