18.04.2015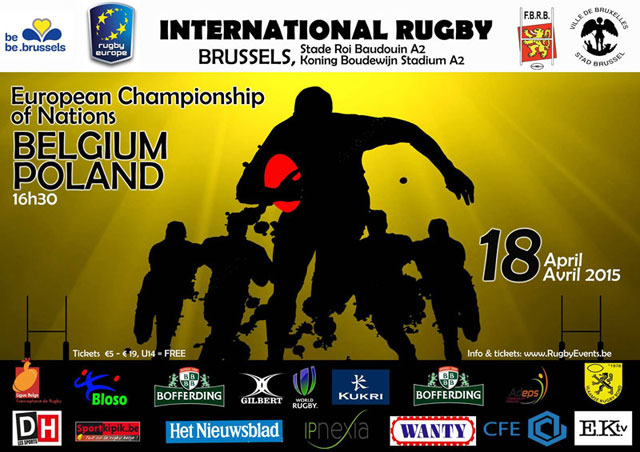 Image thanks to http://www.sportkipik.be
Venue: King Baudoin Stadion, Brussels
Referee: Matteo Liperini (Italy)
| | | | | | | | | | |
| --- | --- | --- | --- | --- | --- | --- | --- | --- | --- |
|   | P | W | D | L | PF | PA | DIFF | B | PT |
| BELGIUM | 4 | 4 | 0 | 0 | 136 | 52 | 84 | 1 | 17 |
| MOLDOVA | 5 | 3 | 0 | 2 | 155 | 83 | 72 | 4 | 16 |
| POLAND | 3 | 2 | 0 | 1 | 63 | 73 | -10 | 1 | 9 |
| NETHERLANDS | 3 | 1 | 0 | 2 | 47 | 42 | 5 | 2 | 6 |
| UKRAINE | 3 | 1 | 0 | 2 | 70 | 54 | 16 | 1 | 5 |
| SWEDEN | 4 | 0 | 0 | 4 | 35 | 202 | -167 | 0 | 0 |
Preview
Belgium remains undefeated at the top of the competition table. Poland with one loss sits in third behind Moldova but with a game in hand. Belgium, relegated from ENC 2A last season, Poland and Moldova look the top teams. This is going to be a crucial encounter.
Belgium will be without some key players going into this important match. Thomas Dienst (Lille), Mathieu Verschelden (Romans) and Maxime Jadot (Lille) and not been released by their clubs because of important French club championship games.Julien Berger is also out playing for La Rochelle.
Key back Alan Williams is out injured for at least 6 weeks whilst Alain Miriallakis returns to Australia.
Belgium has been forced to introduce two young players Maxime Vassart and Antoine Devignez. The team could well struggle against Poland.
Meanwhile Poland has five of their French-based players available and looks to have a strong squad.
Last Five Encounters
07.04.2012 Belgium 20-13 in Brussels (ENC 1B)
12.03.2011 Poland 28-21 in Gdansk (ENC 1B)
24.04.2010 Belgium 29-8 in Brussels (WCQ Europe R4; ENC 2A)
30.05.2009 Poland 14-3 in Gdansk (WCQ Europe R4; ENC 2A)
16.10.1999 Poland 43-14 in Brussels (FIRA C)

Belgium Last Five P 5, W 3, L 2
14.03.2015 v Moldova W 17-14 in Brussels (REC 1B)
21.02.2015 v Netherlands W 23-21 in Amsterdam (REC 1B)
15.11.2014 v Ukraine W 25-10 in Irpin (REC 1B)
15.03.2014 v Russia L 20-34 in Brussels (WCQ Europe R5; ENC 1A)
08.03.2014 v Romania L 10-29 in Iasi (WCQ Europe R5; ENC 1A)
Poland Last Five P 5, W 2, L 3
15.11.2014 v Moldova L 25-48 in Chisinau (REC 1B)
18.10.2014 v Netherlands W 9-8 in Warsaw (REC 1B)
06.09.2014 v Sweden W 29-17 in Warsaw (REC 1B)
26.04.2014 v Ukraine L 28-29 in Lvov (WCQ Europe R4; ENC 1B)
05.04.2014 v Moldova L 12-21 in Siedlce (WCQ Europe R4; ENC 1B)
GWC Rugby Rankings
Europe Table: Belgium 12th, Poland 18th
World Rugby Ranking Points
Belgium 56.14, Poland 51.33
Prediction: Poland by 5 points. Score 25-20
TEAMS
Poland Squad
01.Grzegorz Janiec - USRP Romans (Francja)
02.Radosław Bysewski - Arka Gdynia
03.Craig Bachurzewski - Biggar RFC (Szkocja)
04.Adrian Chróściel - Pogoń Siedlce
05.Rafał Kwiatkowski - Arka Gdynia
06.Grzegorz Buczek - Lechia Gdańsk
07.Kacper Ławski - CAP Pontarlier (Francja)
08.Karol Perzak - Arka Gdynia
09.Aleksander Nowicki - AS Macon Rugby (Francja)
10.Piotr Zeszutek - Ogniwo Sopot
11.Marek Płonka Jr. - Lechia Gdańsk
12.Mateusz Bartoszek - Glasgow Hawks (Szkocja)
13.Paweł Dąbrowski - Arka Gdynia
14.Dawid Banaszek - Arka Gdynia
15.Łukasz Szostek - Arka Gdynia
16.Rafał Janeczko - Lechia Gdańsk
17.Szymon Sirocki - Arka Gdynia
18.Dawid Popławski - FCTT Toulouse (Francja)
19.Patryk Reksulak - Budowlani Łódź SA
20.Tomasz Gasik - Orkan Sochaczew
21.Rafał Szrajber - Arka Gdynia
22.Radosław Rakowski - Arka Gdynia
23.Robert Kwiatkowski - Lechia Gdańsk
24.Michał Mirosz - Budowlani Łódź SA
25.Stanisław Powała-Niedźwiecki - Budowlani Lublin
Head Coach: Marek Płonka
http://pzrugby.pl/news/aktualnosc/PowolanianameczzBelgia,892
Belgium
Bertrand Billi (Soignies), Martin Bonnel (ASUB), Nathan Bontems (Racing Metro), Quentin Boucar (ASUB), Tom Cocqu (US Bressane), Sep Debacker (Dendermonde), Christophe Debaty (RFCL), Michael De Molder (Boitsfort), Thomas De Molder (Pau), Maxime Devignez (ROC Ottignies), Max Dubois (Soignies), Sébastien Guns (ROC Ottignies), Dirk Haghedooren (Agde), Romain Heyndrickx (Soignies), Baptiste Lescarboura (Kituro), Julien Massimi (Arras), Nicolas Meeus (Kituro), Tuur Moelants (Boitsfort), Florian Piron (RFCL), Guillaume Piron (Colomiers), Charles Reynaert (Kituro), Hugo Sensée (Kituro), Maxime Temmerman (ASUB), Antoine Vassart (La Hulpe), Pablo Francisco Villar (La Hulpe), Kevin Williams (ASUB)
Head Coach: Guillaume Ajac
http://www.sportkipik.be/articles.php?id_article=9493